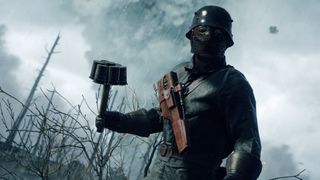 A new Battlefield game is releasing this year by EA and according to rumors it's going to be set during World War 2 because naturally that's what follows World War 1 .
All this is according to anonymous sources that claim are "familir with EA's plans", speaking to GamesBeat. These sources claim the game will be called Battlefield V.
And here's the logo, leaked on reddit.
US Gamer claim to have heard something similar. Loot boxes will be a part of the game but only with cosmetic items . Customization options for the soldiers are a lot more than the previous battlefield games .
A World War 2 setting would be epic as Battlefield 1 featuring World War 1 setting worked out so well , the multiplayer was to die for ! And it won't be long before we hear more news . DICE's senior video director Randy Evans tweeted that the game's reveal trailer is well underway.